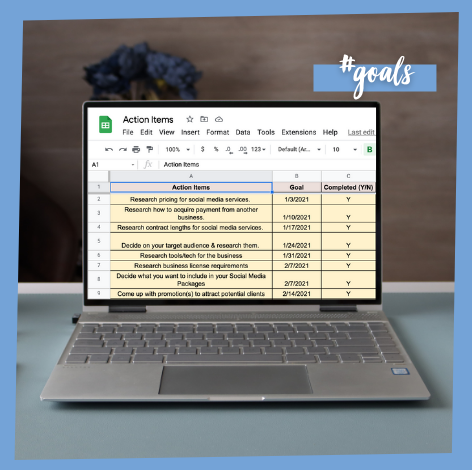 Goals. We all have them… But how do some people achieve their goals and others don't?
I believe it all comes down to strategy. If you have a plan in place, your odds of achieving something you want are much higher. 
I'm here to share my personal goal-setting strategies to help you reach the future you want.  
Keep reading to find out what they are. 
Goal-setting tip #1: Write your goals down.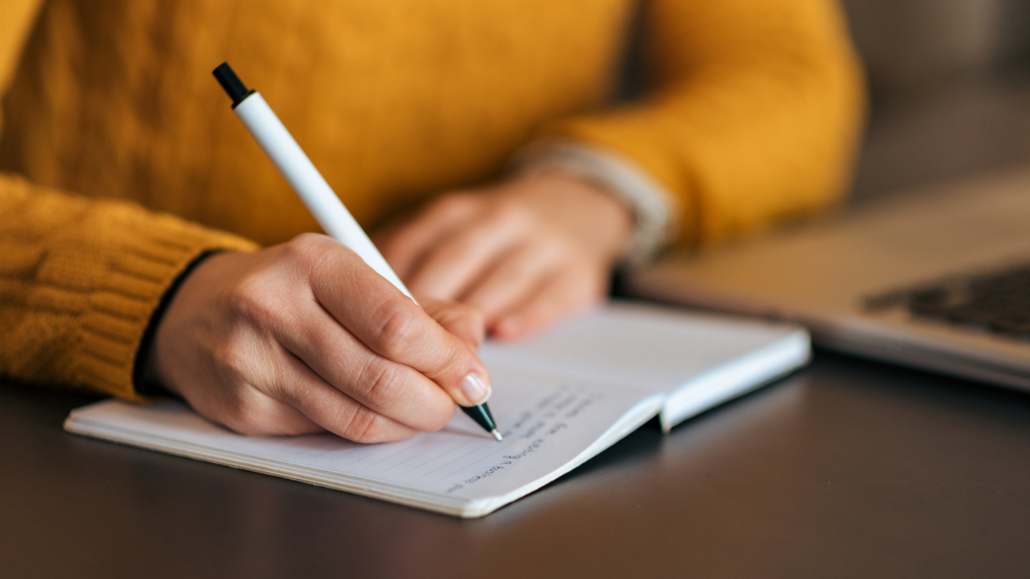 Here's how Like It Marketing came about…Once upon a time, on a couch tucked away in a quaint townhome… Alright let me stop playing around. 😄 
Like It Marketing started with what Nick and I like to call our "couch conversation". We sat on our couch and dreamed up a social media + photography company that would help us bring in extra income on the side. At the time, we didn't know it would become my full-time career. 
Nick had the brilliant idea of creating an "action-item list" with our plan to make Like It Marketing a reality. I quickly drafted a Google spreadsheet and listed everything we talked about. But, I knew we had to take it a step further than that. And that brings me to goal-setting tip #2…

Goal-setting tip #2: Set deadlines (
and stick with them!
). 
 
It's one thing to say you're going to do something, but it's another thing when you add a sense of urgency to your plans. Deadlines help you stay on track with your goals. 
Each day, for four straight months, I checked my "Action-item" spreadsheet to see what the next item on my to-do list was. 
Like It Marketing launched right on time, thanks to this simple goal-setting step. 
Keep in mind that you can always adjust your deadlines, if absolutely necessary, but try to stick with them if possible.
Goal-setting tip #3: Tell someone your goals.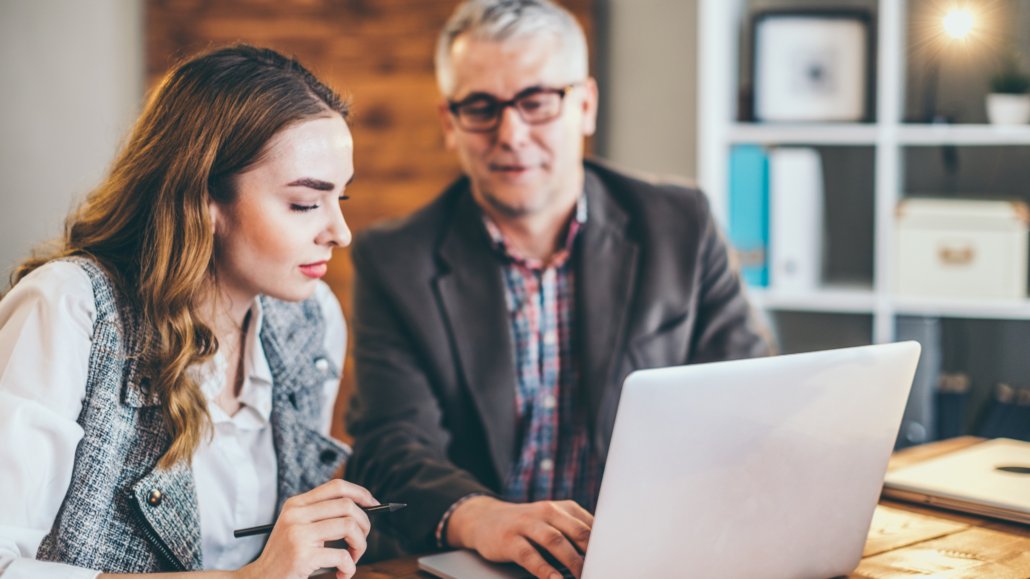 Tell your spouse, tell your kids, tell your best friend, tell your mentor – tell someone about your goals! 📢
Saying your goals out loud makes them feel more real and helps keep you accountable. 
Now that you've told someone what your plans are, you'll feel more obligated to achieve them versus keeping them to yourself. 
You can even ask that person you told to hold you accountable by checking in on where you're at in the process.
Goal-setting tip #4: Two words, vision board.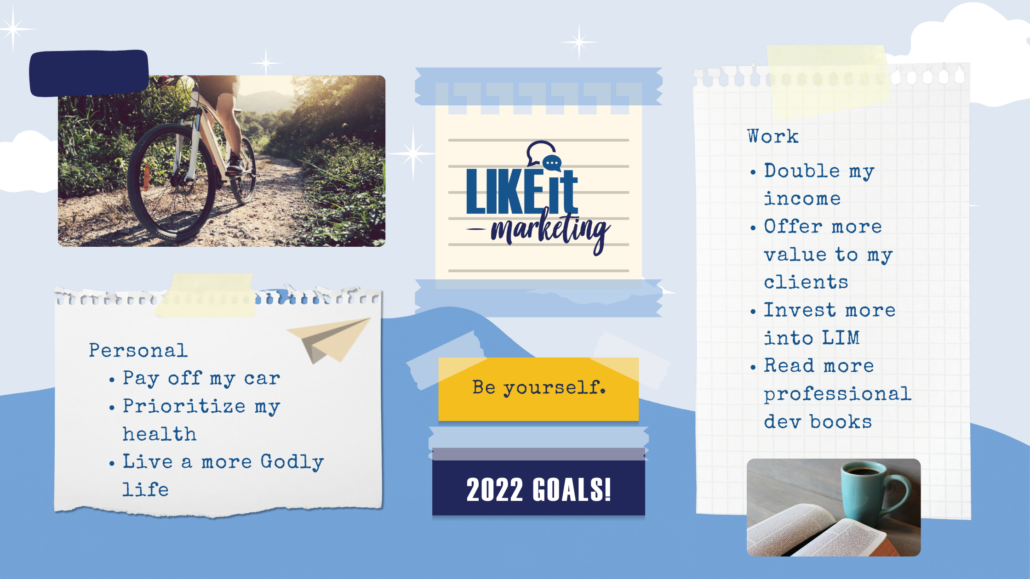 According to a quick (and totally credible) Google search 🤣, a vision board is a visual representation of your goals.
There's something special about seeing what your goals may look like. 
Some people create physical vision boards (think back to school projects when we put stuff on giant poster boards)… For this project, you'll probably need the following:
Magazine/news articles

Photos

Crazy scissors

Glue

Stickers
And whatever else your creative heart desires. Another option, for the more tech-savvy folk, is to create a digital vision board. There's a few ways you can accomplish this. 
#1. Pinterest – Use this social media app to create your vision board. You can "pin" posts that speak to you. For example, maybe your goal is to purchase your dream home in the next five years; if that's the case, you'd find a pin that looks like your dream house and you'd "pin" it to your board.
#2. Canva – Another option is to create a desktop vision board using a user-friendly graphic design tool like Canva (my friend Coach Mona G gave me this idea). I created one recently during Mona Giordano's weekly online event, The Direct Connection Network Meeting. I've shared it all with you here (see above).   
Goal-setting tip #5: Mark completed and CELEBRATE!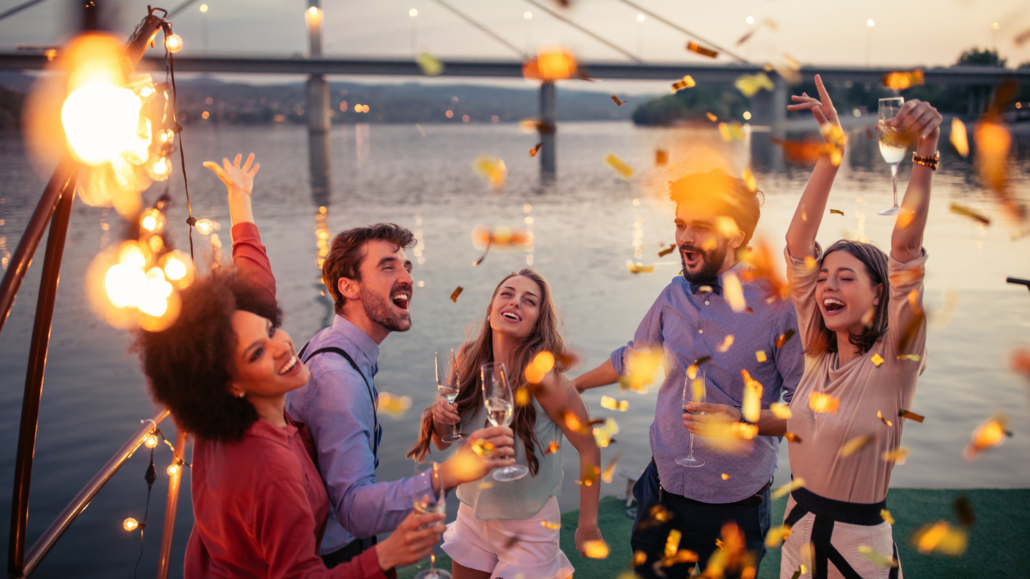 This may be the most important tip here. So many people neglect to celebrate their wins, but the truth is they deserve to be celebrated!! 
You worked hard to accomplish your goals and having a little incentive at the finish line will motivate you to accomplish even more. 
Here's some ideas to help you celebrate:
Go out for a celebratory drink with your spouse or friends (or both)! 

Buy something on your Amazon Wish List. You have one of those, too, right? LOL. 

Share your success on social media – specifically LinkedIn – if you completed a certificate, got a degree, or something of that nature. 
The opportunities to celebrate are endless. Do what makes you happy. 🙂 
Final thoughts
Alrighty, so that's 5 tips to help you set your goals this year.
Which one do you like the most? I'd love to hear your thoughts. 
Share this article on your social media page so you can come back to it later (and help maybe help someone else). You can find the share buttons below. 
As always, thanks for reading, y'all! 💙
https://likeitmarketing.com/wp-content/uploads/2021/12/Goals-Blog-featured-images.png
470
472
Tonya Parham
https://likeitmarketing.com/wp-content/uploads/2021/03/LikeIt-Marketing-Logo-Bubble-Color-300x238.png
Tonya Parham
2022-01-05 09:00:36
2021-12-22 10:34:11
Goal-setting tips