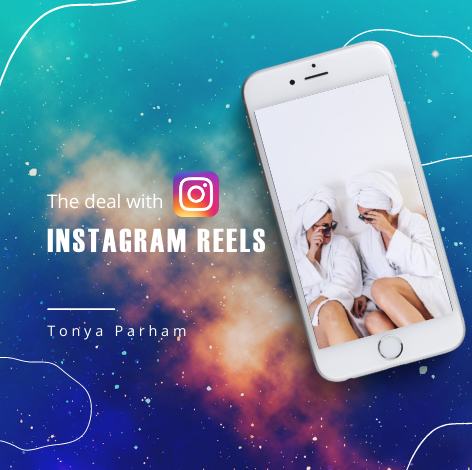 So, you're here because you want to know what's the dealio with Instagram Reel-ios, am I right? 😜
For my friends less familiar with Reels, let me give you a quick description: Instagram has a feature on its app called Reels, similar to TikTok & Youtube Shorts, that allows you to create short videos with text, sound effects, trending audio, etc. 
Reels have quickly gained popularity points and we're seeing many content creators create more and more over this past year. 
Stick with me and I'll answer some questions you probably have about this booming trend! 
Do you think Reels are here to stay? 
Absolutely. All predictions point to video content being king over these next few years. With Reels, you can get golden information in seconds – feeding our need for instant gratification. 
Reels are fun, informative, and entertaining, which plays into some of the main reasons we use social media on a regular basis. 
So I wouldn't hesitate to use Instagram Reels just because you fear it might go away in a few years. Even if the Reels feature goes away, video content will still be dominating the market, and creating these short videos will be great practice for what's to come. 
What success have you had with Reels? 
To be honest, I was hesitant to take on Reels, but I have to admit it has been worth all of the hours it has taken to learn how they work.
The first Reel I ever posted reached over 3,000 people! That's 3,000 pairs of eyes on my company; and that's with very little effort involved. I have reached way more people using Reels compared to still image posts. 
I will continue using Reels as a tactic to boost my brand's awareness.  
What tips would you give someone who is just getting started with Reels? 
Don't let Reels overwhelm you! Start with the basics. Learn how to use video effects, record in the app, add text and music. Once you've got those basics down, move on to figuring out the timing of texts, fun transitions, adding your brand colors, logo, etc. 
Some helpful tools I use when creating Reels are my tripod and my hands-free remote for my phone that allows me to capture video by pressing a button.  
Before creating your video, write down your topic and main talking points, so you know what to discuss before hopping on camera. You can use an app like Teleprompter to help you remember your lines, if scripts are your thing. 
My last piece of advice is to go look at your competition's Reels to get ideas of what they're doing to reach their audience. Good luck! 
How can I best use Reels for my business?  
As I mentioned before, people watch Reels to be entertained and informed, so when you're creating your Reels you want to keep this in mind.
Here's some ideas to get you started:
Answer frequently asked questions

Tell your business journey (how it started, your struggles, your wins, your vision for its future, etc.)

Share case studies of how you helped your clients
Reels are another great way for you to build that know/like/trust factor that gets people to invest in your product or service, so make sure you're creating them regularly.  
Final thoughts
Just have fun with it! When you're having fun creating Reels, it shows. This is your opportunity to get creative and share what you have to offer to the world. 
Stop putting it off and instead, live by Nike's motto: Just do it! 
As always, thanks for reading my blog, y'all! 💙
—
Like this blog? Read next: Elevate your business with professional photography
https://likeitmarketing.com/wp-content/uploads/2022/05/Blog-featured-images.png
470
472
Tonya Parham
https://likeitmarketing.com/wp-content/uploads/2021/03/LikeIt-Marketing-Logo-Bubble-Color-300x238.png
Tonya Parham
2022-05-23 08:00:10
2022-05-03 14:42:04
The deal with Instagram Reels