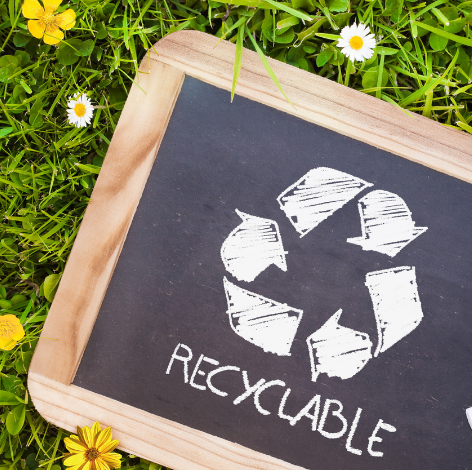 Are you tired of running out of ideas for social media posts? Well, you probably haven't tried repurposing your content. You may be wondering what exactly that means… I'll tell you in my own terms.
Repurposing content means using content you've created in the past in a new way. I'll give you some ideas on how to do this later on.
Why you should repurpose content
Repurposing content will save you a ton of time.  

Avoid the fatigue and frustration that comes with creating new content. 

Get more engagement with different messaging (some people may prefer your repurposed content over the original content).
7 ways to repurpose content
Here's some ideas on how to repurpose your content for social media!
1. Turn a blog post into a social media post (or several social media posts).

You could take the main concepts of the blog and turn each concept into one social media post. Or, you could list the main points in one social media post. Personally, I do both.
2. Use old posts that performed the best for "Throwback Thursday" posts.

Visit your social media page insights to see which posts are performing the best. Make note of those and use them every now and then for Throwback Thursday (#tbt) posts.
3. Take out quotes from your videos and use them as quote graphics for social media.

Rewatch some videos you've created and pull out pieces that you feel are quote-worthy. Create cute graphics using those quotes. 
4. Turn a social media post or a blog post into an infographic.

Infographics are visually-appealing and are best for visual learners. Canva has infographic templates that you could use to make the process as easy as possible.
5. Take information from your website and turn it into social media posts.
You could summarize your services into a social media post, for example. Or, you can write a post using the information from your website's "About" page. 
6. Turn your social media post into an Instagram story and add a sticker to it.

Instead of coming up with completely new stories each day for Instagram, use the post you had planned for your grid and add it to your story. Throw on a fun Instagram sticker and viola – you've got yourself an Instagram story each day with little effort.
7. Turn your blogs into an e-book.

Combine your blogs to make an e-book that you could use as a lead magnet to attract clients. Create social media posts promoting that e-book and include a call-to-action to visit your website.
Final thoughts
These are just a few ideas but the possibilities are endless. If you have any other ideas, please share them with me at tonya@likeitmarketing.com. Make sure you sign up for our newsletter to get more tips and tricks on content creation!  
Thank you for reading!
https://likeitmarketing.com/wp-content/uploads/2021/08/Blog-featured-images-repurposed-content.png
470
472
Tonya Parham
https://likeitmarketing.com/wp-content/uploads/2021/03/LikeIt-Marketing-Logo-Bubble-Color-300x238.png
Tonya Parham
2021-09-01 09:00:21
2021-08-12 10:54:27
Repurposing content for social media