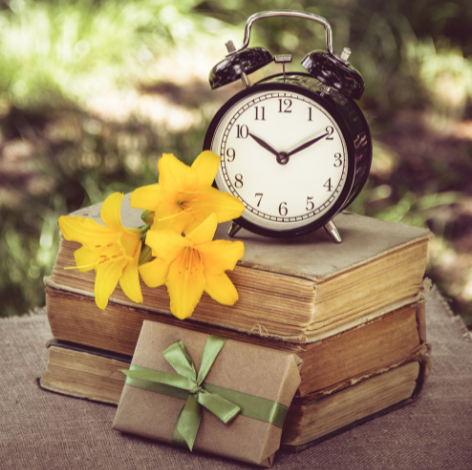 Wake up, cook breakfast, get kids ready for school, get dressed for work, drive kids to school, go to work… should I continue?
Our everyday to-do list is a mile long and it's EXHAUSTING! 😩
Add in social media management to the mix, and BAM – there goes your sanity (or all of your free time, at least). We believe that you should spend less time working and more time with family.
So we've come up with 5 time-saving tips to help you get your company's social media under control in the least amount of time possible.
Check them out below. ✨
Tip #1: Come up with themes for the month
Coming up with a social media theme for the month will save you time because it'll allow you to focus on a particular topic, instead of bouncing all over the place.
For example, if you own a hair salon, you may consider the theme: Self-care.
When creating social media posts, you'll think about how each post can relate back to self-care. One of your posts could talk about taking care of your hair, while the other may talk about exercising and eating right (something that is probably important to a hair salon's target audience).
Using this method is much easier than coming up with new topics every single day.
Be careful not to use themes that are irrelevant to your industry or else you run the risk of losing the interest of your followers.
Tip #2: Create content for one month at a time
This idea bounces off of the first one. When you create content, make sure you plan out the next month in advance. We like to create one month of posts at one time. If this isn't possible for you, try creating two weeks worth of posts at one time.
Here's things you should consider:
Theme of the month
Upcoming events
Birthdays and work anniversaries
Announcements
To help you stay organized, we recommend creating a social media content calendar that shows all of your upcoming posts. We create a content calendar for each one of our clients.
Tip #3: Repurpose content to save time
We've talked about this in a previous blog, but repurposing content is basically using content you've created in the past in a new way.
Some ways you can repurpose content:
Turn a blog post into a social media post (or several social media posts).
Take out quotes from your videos and use them as quote graphics for social media.
Take information from your website and turn it into social media posts.
Read our last blog for more ideas!
Tip #4: Schedule posts in advance instead of posting manually
If you're still posting social media posts manually, you're doing it wrong! There are a ton of tools out there to help you schedule social media posts in advance. 😃
A free tool you can use to schedule Facebook and Instagram posts is Facebook's Creator Studio.
Take advantage of this technology! It'll save you a TON of time!
Once you schedule all of your posts for the month, you won't have to worry about missing a day of posting. This takes a lot of the stress off of having to create a post every single day.
Tip #5: Set up a timer when engaging with others' posts
I don't know about you, but when we get on social media to engage with other accounts, we find ourselves scrolling for a long time!
We realized we were spending way too much time reading, liking and commenting on others' posts so we decided to set a time limit for this. ⏰
Give yourself 20 minutes per day to engage and then cut yourself off. Otherwise, you'll find yourself scrolling for hours.
Final thoughts
Social media should be a priority for your business, but it shouldn't consume your nights and weekends. We started Like It Marketing to help busy business owners like you get their life back. If you need someone to help manage your social media accounts and save you time, please don't hesitate to reach out. Visit www.likeitmarketing.com/contact/
Thanks for reading! 💙
https://likeitmarketing.com/wp-content/uploads/2021/09/Time-Saving-Tips-Blog-featured-images.png
470
472
Tonya Parham
https://likeitmarketing.com/wp-content/uploads/2021/03/LikeIt-Marketing-Logo-Bubble-Color-300x238.png
Tonya Parham
2021-09-14 09:00:35
2021-09-07 12:11:24
Time-saving tips for social media